Don't Look Up stars Leonardo… poerson…. and Jennifer LAWrence (whom, I swear to god I thought she was the actress from Kimmy Schmidt or "Erin" from The Office and stuffs)… And. I mean. It's a, good, if not amazing, Netclix movie directed by Adam McKay (Anchorman, Step Brothers, The Big Short, all mocies that I absolutely love… well… the latter, I've only watched once, enjoyed a hell of a lot, and never gave a shit about it since).
Then… rthis happened… Like… MY yesterday… you kow… however time works… I watched the movie…

This isn't the best trailer to… show case… whatever I'm doing now. But whatever? Right?

Don't Look Up is a move that happened. I enjoyed it. I loved how it perfectly satirized (without even being a stretch of satire) the actual, dinodaur type of extinction level event. In modern day's society. OH NO ALAGORY FOR CLIMATE CHANGE!… Sure.
OH NO! IT'S A COMMENTARY ABOUT COVID! I mean. Sure.
The thing no one really wants to talk about is:
Us.
We're far too foxuessed, on division, my dudes. Both sides of the political aisle, in America, are focused on attacking the other. They're focused on the "win." When… dude… We're all just people. You know? We have different opinions. All of the things I've talked about… ad nauseam…
I mean. I really, really, loved this movie.
I loved the satire. I loved the commentary. I even loved the politics of the film, no matter how much I may disagree.
No one working on this movie would ever give a shit about me. So. Uh… I don't know?
FIVE STARS! MAYBE?
OH NO! CAPITALISM SUCKS! THE PATRIARCHY STILL EXISTS! AND GUESS WHAT MOTHER FUCKERS?! WE'RE ALL GOING TO DIE DUE TO A FUCKING OBSERVABLE COMET IN THE SKY!
I don;'t kjnw. As much as I love this movie. I also… loathe it?
I also loathe the lack of empathy we have for each other.
I loathe that I feel totally comfortable with this movie.
I loathe that I feel… anything anymore.
I just… don't care.
But god damn it. Adam McKay et al made me feel. And care. And they did it awesomely. Basically perfectly.
What am I rambling about? I have no fucking idea dude. It sucks that Hollywood personalities can't feel for human beings that live in America. Or… maybe they do? But not "correctly" I don't know. Dude. All I know. For a fact is this movie made me think. This film made me feel.
Something.
Nothing, especially mainstream media related, has come close to this.
I'm probably talking out of my ass there. But.
Fuck it.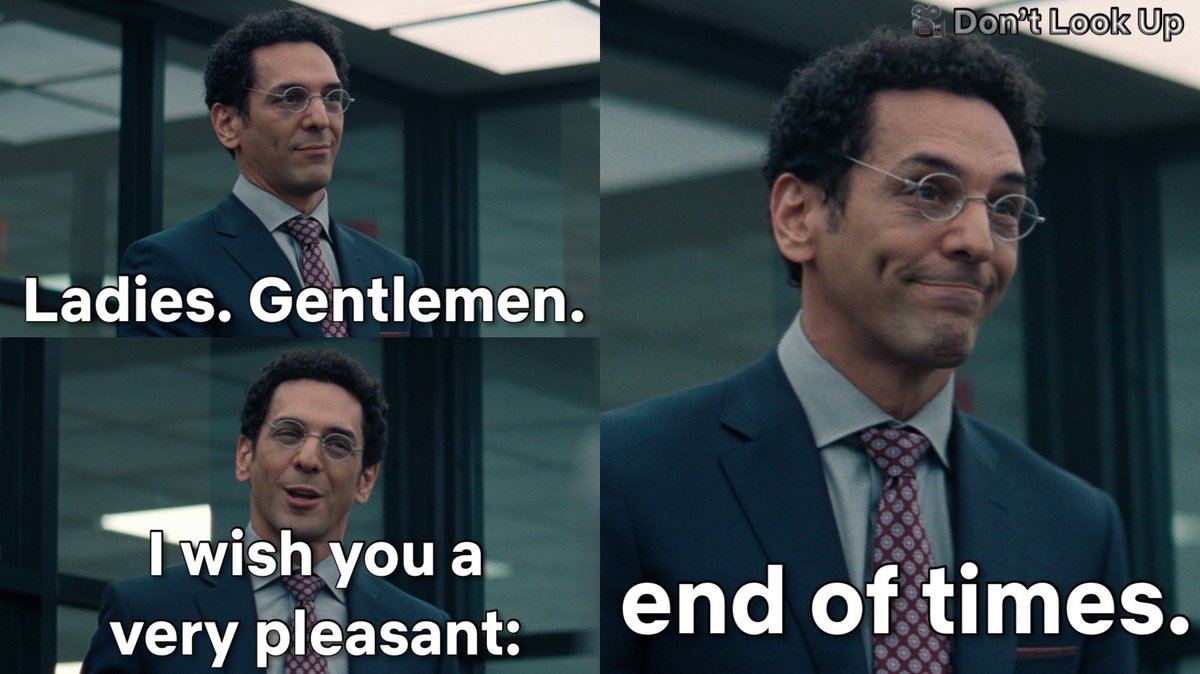 Yes.