So. I think. beginnging just today. Or. "today." WHatever. I've been listening to clips from Eric Bischoff and// what's his butt, from the Something to Wrestle with, podcast. I guess, the podcastg theyh do is called 83 Weeks? But I can't confirm or deny thagt. Because. I don'tg care thagt much. I just love listening to Eric Bischoff.
So much so that I randomly sent this to my buddy, Dave. You may know him in wrestling and such. You maye know him in eWrestling and such. But. Whatever. We talk, basically on a daily basis. And. I sgarted shit off "today" witgh:
THen like.
I don't even know when.
Soetime later today. Or. Again. "Today." I was sitting on the toilet, scrolling through my Youtube feed. You know. As one does.
And I remembered.
WAITAMINUTE.
Bischoff isn't wrestling's Hitler.

Vince Russo is. Right?
I mean. I'm pretty sure, Jim Cornette, at the very least, also blaims Russo for Owne's death and such. right? And. I mean. Everything else involving Russo. He's undoubtedly, "wresrling's Hitlwer" Right? I mean. Without ANY sort of quwstion. Innit?
But ike. Before I came to the conclusion that Russo is wrestling's Hitler. I first thought a bit too deepluy. Right? Like. Think kegitimately, right?
Eric Bischoff. Wrestling's Hitler. Who won the war? In both respects. WWIII and the Monday Night War. Right/? The Allies. And. You know. WWF/WWe. Who wrote the history whislt having darkness around them? The Allies. And. You know. WWF/WWE.
I mean. As far as WWII is concerned. America WAS putting its citizens in concentration camps. Stalin WAS doing the same, whilst. You know. Causing massive death tolls due to Soviet starvation and such. But HEY! The ALLIES WON! YYAY! MUCH RIGHT SIDE OF HISTORY! SUCH AWESOMENESS.
BECAUSE WE LIVE IN THE DUMB ASS WORLD THAT IS 2018: Yes. Germany/Nazis were evil assholes. Yes. THey were trying to conquer the world. Yes. The Allies WERE on the right side of histoy in ending those dicks. Obviously.
I'm just saying.
IF tghe war had gone the other way. IF. WWII hafd gone the other way, history would reflect on this time period WAY more differently. RIght? That's ALL.
JUST like I'm comparing. Fucking. A wrestling writer/booker person to Adolf0fucking-Hitler. Both of these things are idiotic. Nazis. And comparing ANYTHIzng to to Nazis in Professional Wrestling. Is idiotic. BUT.
I mean. It goes without saying.
Had WCW "won" the Monday Night War. Not only would the professional wrestling business be… you know… NON EXISTANT in 2018. Be that as it may. WCW's contributions. And those that contributed to its successes, would NEVER be put in the light of "the worst things ever to happen to wrestling."
Obviouslgy. In this scenario. VBince Russo would never need to come to WCW to "fix it," oer whatever. Because. You Know. Erich Bishcofff is already the greatest king aand such. Sigh. Dude. igh. Sigh. Sigh. Sigh.
I don't think I'm mKING sense.
Here let's break this down.
Hitlet loses WWII (WHICH, AGAIN. BECAUSE I LIKE *SOME THINGS* ABOUT DONAL TRUMP I NEED TO JUSTIFY MY EXISTANCE… WHICH IS YOU KNOW… VERY ANTI-FASCIST… A GOOD THING. HITLER LOSING IS A GOOD THING AND THAT GOES WITHOUT SAYING. FUCCKTARDS)
Eric Bischoff's WCW lost the Monday Night War.
Hitler's evilness only came about AFTER the war (OMG, JUST BECAUSE I LIKE A COUPLE OF THINGS THAT DONALD TRUMP SAYS, NOW I'VE GOT TO JUSTIFY MY EXISTENCE IN THIS ANTIFASCIST WORLD WE LIVE IN AND SAY, "HITLER

WAS

EVIL. PERIOD." I'M JUST SAYING WHAT HE DDI WOULDN'GT HAVE BEEN UNEARTHED HAD GERMANY/ITALY/JAPAN/ETC. WON THE WAR).
If WCW won the Monday Night War, given what we know now, about how unorganized and everything… PLUS the AOL/Time Warner merer happening. Most likely… Pro wrestling, wouldn't exst. Nor would it be ANYWHERE NEAR how "mainstream" and "influencia" as it has become. Come on guys. Be as cynical as Stan Marsh on a bender. And such. But. Conner's Cure? John Cena's Make-a-wish contributions? Everythig like such as? None of these things exist if WWF/WWE doesn't win the Monday night War.
Hitler winning. Sucks.
WCW winning. MOST LIKELY. Sucks.
Butr. As far as "mainstream wrestling" is concerned. Eric Bischoff. Is. WITHOOUT DOUBT… THE Mussolini of this situation. He lost the war. But he WAS NEVER accused of killing people. Right? He was brought in by the winner of the war (Not that Mussolini was but whatever). HE wa constantly shig on. Althoough, he, you know, also made our with the boss's wife. Or. YOu know. He passionately kissed Linda McMahon. THe Trump Administration's Administrator of the Small Business Administration.
Eric Bischoff, isn't wrestlkng's Hitler. Ruso is.
But in the grnd "mainstream" sort of things. Merhaps he is wrestling's Hitler?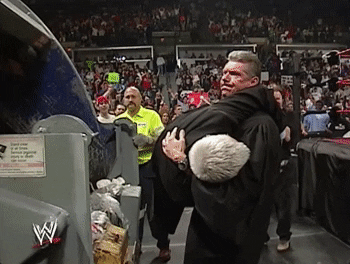 Due's been willingily thrown in the trash more  than… I dunno. Insert a pornstar's name here. You know. Someone that loves being deraded and stuffs. Some pornstar or something. That's ONLY there to be "dom'ed" or something. Some pornstar (pornstar… cause… I can't think of ANONE else that'd be WILLINg to degrade themselves in front of millions of people, right?) that'd be willing to humiliate themslves in front of millionsih for years.
Right?
Eric.
Fucking.
Bischoff.
Is aweseome.
Even going through ALL of this.
Being given the reigns of a billions of dollars, turning a proffit, and seeing that profit decline hand over fist.
Being trusted to be the ONLY person that's turned a company losing millions of dollars back into a profitable organization a second time. To have THAT blwon up in your face.
TO tHEN go on and eat shit. Night in. Night out.
Because. You know. You "lost the war." You've got to own up to your shit now.
And.
You know.
Go through ALL of this. As a performer. As a human being. Living with the residuals of this thing.
THEN…
You can still come out and be…

…THIS brilliant?
Come on man.
Pro-Wrestling's Hitler. Is. Vince Russo. A CLOSE second is Eric Bischoff.
The end.
Unless…
History isn't over. And Vince McMahon will forever be known as evil Adolf himself.
DUN DUN DUNNNNNMB.