Dude.
I want to do this rambling. Just as much as I want to… I dunno? Pull teeth? Forcibly remobe toenails? Be waterboarded? Or. *gasp* Dare I say it…
Be grabbed by the collar of my shirt and asked questions?
Because. You know. "Being grabbed byh the collar and held up against a wall," was once considered torture by media sources. During the Obama administraation. Timmy and I went over it once upon a time during the ole' Harms' Way show. Thing that it was.
Whatever.
Basically.
I do NOT want to talk abotu this.
Because.
Dude.
Politically?
I'm. Basically done with EVERYTHINg. Relating to politcs. I'm. Forreals. Done dude.
An honest media would never, EVER, dream of publishing something: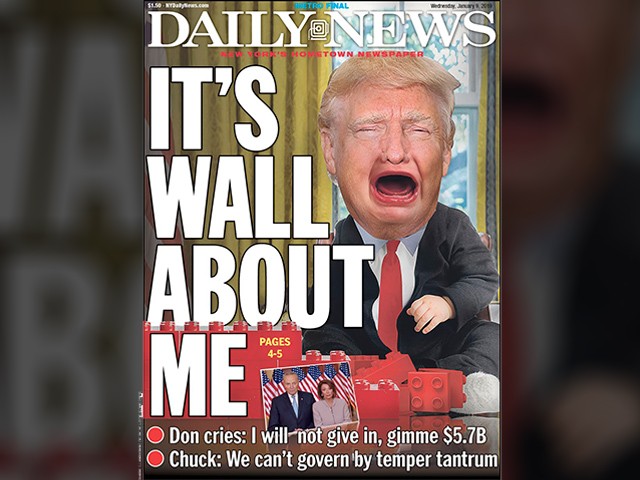 Dude.
I don't give so much of a shit, that I won't even delve into how much of pathetic, contradictory assholes, democrazts, Chuck and Nancy especially, are being. Because this argument is so nonsensical. The fact that this rambling exists is bullshit at this point.
BUT.
To "defend Trump's tantrum," as if it, logically, needs defending.
If yu're trying to buy a house. And, prior to the meeting, you told the real estate agent, "Dude, I'm looking to buy a houe under $400,000."
But. the real estate agent has provided you with a list of houses costing "$1,000,000+."
Would you not walk out of that real estate office?
You set a guideline.
THe real estate agent didn't meet it.
Trump set a guideline.
The Democrats didn't meet it.
MUCH TANTRUM! SUCH HORRIBLE PRESIDENCY! IMPECH 45! PMEACH 451 IMPEcch 45!