QUICK RAMBLING: The MASK!

Bruh. You clicked this shit/ Thinking I'm gonna be talking about that Jim Carrey movie that introduced the world to Cameron Diaz?
Where've you been for nearly 10 years? Right? This is kinda my gimmick.
Blah. Whatever. I'll shut up now.
Point is:
Guys.
Wear a mask. Period. The end.
If the mask causes LEGIT health problems for you. Don't wear the mask. Period.
I'm a fat cunt. And yes. Wearing a mask is annoying as all sorts of fuck. Bro, whenever I go grocery shopping with my mask, I'm gasping for air worse than a Roddy Piper/Hollywood Hogan cage match at Halloweeen Havoc the entire time. If I can do it. You can. FFS.
But alright.
Sure. Be AN EVEN BIGGER CONTRARIAN THAN ME. And again. Lemme emphasize.
A… bigger… contrarian… than… I… Am…
And have an arguement, "bleh, wearing a mask spreads Covid even worse because you think you're safe and stuffs!" Or whatever. Whatever the "scientific" agrument against masks is.
Or… you know…
"Blegh~! THE GOVERNMENT CANT' TELL ME WHAT TO WEAR~! MY BODY MY CHOICE~!"
I mean… OK.. so, I exposed the left's inconsistencies, kinda with that last argument. Unintentionally. Legit.
What I meant was, "BLEGH~! THE GOVERNMENT CAN'T TELL MEA TO WEAR A MASK CAUSE…."
Or like,…. Something so idiotic like…
Dude. I'm the classic liberal of ALL classic liberals. I don't want governemtn to interupt freedoms. Ever.
But ALL OF YOU "anti-maskers"…
You've GOT to realize. The ONLY thing you're doing is being an anti-parody of Dwight Schrute. Right?

"I WELCOME IT!"

I m ean. You realize this. Don't you? Call me crazy. Call me, "part of the matrix."
Call me, "blinded by CNN fakenews propoganda."
I don't give a single solitary shit.
You. Anti-maskers. Want peiople to sneeze on your toast.
I've made fun of this meme in ramblings before. And. Shit dude. It's, OBVIOUSLY not accurate. But. I mean. With all you Dwigts (no typo) out there. I feel it more and more.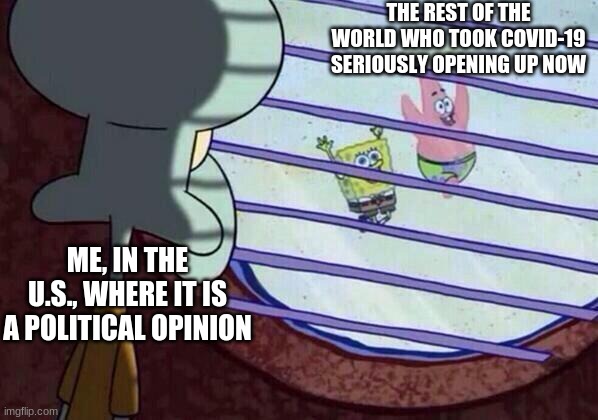 Damn it, Dwigts, next you're gonna tell me how Tom Hanks is a pedo because he gained Greek citizenship!

UGH!
I'm your humble drunkar from afar. I know nothing.
Take care and stay safe everybody.